Retreat to the Suffolk Countryside...
Join us on our spiritual, grounding, 3 night retreats in luxurious surroundings, in the heart of Suffolk.
The all-women retreats, focus on enabling personal empowerment and balanced well-being. With tailor-made treatments and time for each small group of 5 women to bond, a Niroshini Transformative Retreat, offers the chance to develop that deep core within each of us; that intuitive and "knowing" place. ~ A safe and nurturing environment, to encourage the sharing of knowledge and personal development.
Niroshini treatments, reference some ancient traditional spiritual healing practices - with a little Peruvian and Ecuadorian magic included too!
Niroshini Retreats, offer holistic treatments so you'll discover glorious ways to indulge yourself on all levels, with your body, mind and spirit reaping the benefits. The most natural products are used.
As well as Melissa offering the treatments, she has a dedicated team joining each Retreat, to look after you well during your stay. You'll experience excellent care in a luxurious environment, with kind service and hospitality that is warm and professional. You will experience cooking from Niroshini's own private chef and a menu based on Ayurvedic knowledge (an Indian wellness system dating back 5,000 years). There will be other delights and treats offered during your stay too...
We have chosen special venues that are magical, whether it's from their pure beauty, grandeur or location in the depths of nature. Many have featured in luxurious glossy magazines such as Vogue – they are utterly unique and enchanting. The retreats are purposely run with a maximum of 6 spaces so that guests can be completely looked after, from the moment they walk through the doors and get offered their Niroshini "chakra mocktails", to when they leave – feeling refreshed, ready for their next step in life with balance, calmness and full of passion.
(The Retreat also appeals to brides to be, looking for a completely unique experience, with their nearest and dearest, before the big day).
Reserve your space now to join a tribe of like minded souls and become part of this unique experience.
For more information, email: info@niroshini.com
Highlights
♦ 3 night luxury accommodation
♦  In-house Chef - Laura Bridge, named as one of Russia's top celebrity chefs, has developed a signature Niroshini menu that focuses on Ayurvedic principles. This modern, Saatvic cuisine, works with the "food as medicine" approach, to bring our guests delicious nourishment and health protective properties with every bite. Saatvic foods are considered to be highest in prana or "life force energy", consisting of plant based whole foods, full of vibrancy and rich in enzymes. They are always seasonal and organic. To view our sample autumn menu, please click here
♦ 1 Niroshini Cosmetic Acupuncture Ritual (non-surgical facelift) & a pre-consultation (our Niroshini Treatment Plan Development)
♦ 1 crystal healing session combined with a crystal sound bath
♦ 2 energy based exercise classes
♦ Meridian Reset
♦ 3 group healing sessions (which include Reiki drumming, chakra balancing and facial acupuncture)
♦ Live music 
♦ Art workshop inspired by nature
♦ Guest speaker
♦ Tree ceremony (uniting and aligning with Mother Earth)
♦ Luxury gift bag
(If you are an existing client of Niroshini, a voucher at the value of the consultation, will be given to you to be used towards any of our treatments after the retreat).
❂ ❂ ❂ ❂ ❂ ❂ ❂ ❂ ❂ ❂ ❂ ❂ ❂ ❂ ❂ ❂ ❂ ❂ ❂ ❂ ❂ ❂ ❂ ❂ ❂ ❂ ❂ ❂ ❂ ❂ 
Our trees are from the Woodland Trust and are planted during the tree ceremony on the last day of the retreat. Each guest will also be gifted a tree to take home alongside their luxury gift bag.
❂ ❂ ❂ ❂ ❂ ❂ ❂ ❂ ❂ ❂ ❂ ❂ ❂ ❂ ❂ ❂ ❂ ❂ ❂ ❂ ❂ ❂ ❂ ❂ ❂ ❂ ❂ ❂ ❂ ❂ 
Venues
(Weekdays: Monday – Thursday | Weekends: Friday – Monday)
Set in the heart of Rendlesham's majestic, ancient forest, this particular venue has five guest spaces. For your midweek or weekend getaway, you will have the exclusive use of the entire building.
Butley was once part of a 12th-century Augustinian priory. As you entre the grounds and building, you can sense a magic in the air - a place of complete peace and tranquillity; far from the hustle and bustle of everyday life. As your lungs are filled with the fresh airs of the forest, you instantly unwind.
Inside, the building has little gems of architectural delights, such as vaulted stone ceilings, beautiful window alcoves, the "grand hall" where dining, classes, healings and live music will take place and cosy fireplaces.
We do encourage guests to explore the grounds and the surrounding forest, as it's quite spectacular - Mother Nature's display - and an extremely grounding experience.
(Monday – Thursday | November – May)
*Excluding all holiday periods*
As you approach your luxury getaway, the first thing you'll see through the trees, is a dragon caressing the top of a building which sits snugly beside the 5 star cottages. The papaya coloured house and fairy-tale tower, of this award-winning private home, is where the treatments and group healing sessions will be carried out for five guests.
The exquisite cottages where you'll stay, (also award-winning) are themselves a veritable Aladdin's Cave, furnished with fascinating pieces the owners of Belle Grove, personally collected overseas, especially from Africa and Asia. Each space has a distinct quality and jewel-like interiors, filled with an abundance of riches. It really does feel as if you've found the key to a treasure chest.
You'll also be able to relax and enjoy the beautiful natural grounds of Belle Grove. In the warmer months, the lush tree-lined surroundings are dotted with vibrant flowers, the two ponds lit with flashes of iridescent blues and greens from dancing dragonflies. Visitors seeking peace and tranquillity are frequent returnees whatever the season. There is a network of country footpaths in the area, should you wish to explore further afield.
*Guests with mobility issues, may find Belle Grove's room in the Upper Barn more comfortable. It has a king bed on the ground floor with a walk in shower room.*
Prices
Room price is included as part of your whole retreat experience. There is no additional fee to pay for any of the activities, treatments, food or drinks.
Please email us to find out more information here.
Payment Information
By reserving your space through placing your full payment with us, you are agreeing to the stated policies in our Niroshini Terms and Conditions.
Please note: If cancellation (by you or any member of your party) takes place more than 60 days prior to your arrival date, 100% of the price will be refunded to you. Regretfully, if cancellation takes place less than 60 days prior to your arrival date, only 50% of the price will be refunded to you. However, if another person that you know can be found to take your place, then we may offer you a refund greater than 50% at our discretion.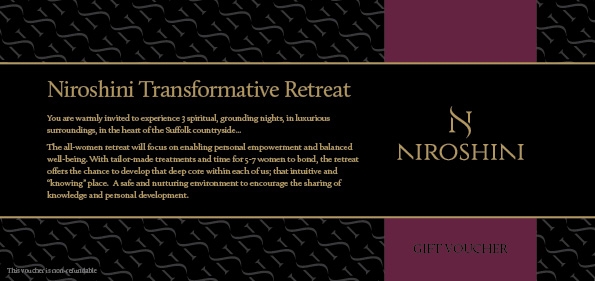 To purchase a voucher for that someone special, please email: info@niroshini.com