02-Jun-2021 - My Story
I was sitting at my desk, staring at my computer screen and I hadn't slept for a week. I was waiting to hear from my friend who was visiting Sri Lanka who had the most minimal details to go by to trace my birth family. I was waiting for any glimpse of evidence that my mother was still alive, following the tsunami and civil war of 25 years.
The only thing that could keep my mind settled was to sing. I was playing "Angels" by Sarah Mclachlan and suddenly, someone brushed their hand through my hair and it fell in front of my face. I knew in that moment, that it was my father and that he must have passed away.
Three months prior to this, I had emailed the adoption centre which wasn't an adoption centre anymore, it was a home for "troubled women" facing such things as domestic violence. Sister Immaculate replied, a brief message saying, "I'll be in touch" but I never heard back from her.
All I had was my mother's name and age, no address. Even though the centre's objectives had changed, I said to my friend "I think this is the best place to start, as we don't have an address…". When he arrived, the Sisters, straight away said that they remembered me as a baby and they took out this big handwritten book. In there, was the name of every woman that had ever visited the centre. As my friend folded over page after page, he suddenly saw my mother's name. In fact, it was my mother's name, my grandmother's name and an address.
In Sri Lanka, you have the Singhalese, Sri Lankan Tamils and Indian Tamils. My heritage is Indian Tamil. My friend's cousin had a maid who was Indian Tamil and that evening, my friend asked, just because of her heritage "I don't suppose you know…" and pointed to my mother's name. Extraordinarily, her aunty lived and worked on the same tea plantation so she called her. "Aunty, is there a lady with this name..?" – "Yes, she's about 51 or 52 years old". Well, that was the age we had for her but I didn't want to get my hopes up.
The next day, they set out to travel from Colombo to Nuwara Eliya, the hill country. The winding, narrow roads seemed unrelenting. They would travel for an hour, ask someone for directions and then they'd tell them they needed to go back the way they came. They felt like they were going in circles, until they bumped into a lorry driver, well, not literally and he was going to the exact same tea plantation so they followed him. There are hundreds of tea plantations in Sri Lanka so this felt like there was a little sprinkling of magic upon the quest.
They arrived at the plantation office and said that they knew of my mother and wondered if she was working that day as they were visiting. The manager said "yes, she should be through the door in about 5 minutes". Now, I had given my friend a photograph of my mother holding me as a baby. Although many years had passed, I thought perhaps, there may be some resemblance to help him identify her. Suddenly, a woman walked through the door, he looked at the photo and looked at her and thought, that must be her. He walked up to her and asked her name and continued to tell the story of me trying to trace her, only to learn that this lady only shared the same name as my mother – it wasn't her.
My friend thought, we can't have come this far, so he quickly got out a piece of paper with my grandmother's name on it and asked "do you know this lady" and she replied "oh yes" and pointed, "she lives there...". It was literally the first place on the slum.
They ran up to the door and started knocking and after what seemed like an eternity, probably only a few seconds, my grandmother opened the door and started hugging and kissing them. She didn't know who they were… or did she? My friend's cousin's wife, could speak Tamil so she said "I used to work with your daughter and I'm just visiting and would love to see her". My grandmother knew what was going on, in fact, she told me later on when I visited her for the first time, that she always knew I would come back. Well, that was another level of faith that I had not experienced at that age or was she an old, wise medicine woman, a healer, a type of shaman who just had that strong, powerful trust and knowing within to not alter from her vision. It turned out, that my mother wasn't there, she was about 10 minutes from where they started their journey back in Colombo! My grandmother gave her phone number and hugged them goodbye with a knowing glint in her blue eyes.
"Melissa! We found your grandmother, wait, I took a photo, I'll email it now". As I sat in front of the computer screen, suddenly my breath got taken away, the most powerful image of beauty I had seen, just pure strength and wisdom staring back at me. I raised my hand up and stroked her beautiful silver hair and touched her cheekbones and found myself lost in her blue eyes. The blue eyes and lined skin that told hundred stories.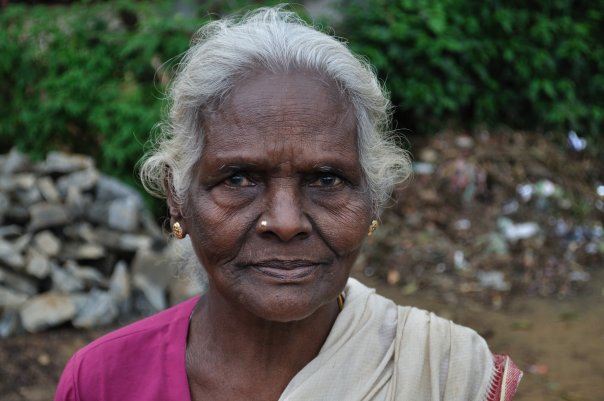 The next day, they called the number and the Boarding House Manager answered the phone "she can't speak right now as she has chicken pox". In Sri Lanka, chicken pox is regarded as a serious condition and you have to remain in isolation for 10 days and on the 10th day, have a ritual bath. My friend said "that's fine, I'll leave my number but will call back tomorrow". However, before he could, my mother called him and asked "who is this". My friend then explained the whole story. My mother immediately said "I want to meet you". They agreed to meet outside a landmark.
The day before the meetup, my friend was restless and thought, I will just ring her to check if she can come. Thank goodness he did because it turned out that the Boarding House Manager, wouldn't let her leave until she'd had her ritual bath. If my friend had not called and my mother did not show up, we would have all just thought, it was far too emotional for her and she changed her mind. They agreed to meet the following day at the same landmark.
As they pulled up in the car, my mother jumped in and opened up her wallet, she then took out a photograph and my friend gasped, it was the exact same photograph that I'd given to him.
What followed on from that, was photographs of my mother and learning that I had two little brothers. When I was 6 years old, I used to stare out of my bedroom window and dream of "saving" my family because I had a "knowing" that their lives were probably filled with hardship and I also wanted to "save" the entire community they lived in. I also used to dream of having two little brothers – so that wish came true!
I found myself, with a fixed gaze, looking out of the window as the plane was landing and I could see palm trees. Does this feel like home, I thought to myself. As I got hit in the face with the humid air, it made me aware that I was hours away from meeting my mother for the first time. I was pacing around my friend's family Sri Lankan home, on my own, whilst he went to collect my mother and bring her to me. I was so nervous, in fact, the nerves were overwhelming. Then suddenly, the door opened, a man – our taxi driver, my friend and then my tiny mother. There were no words, just an instant embrace. With my friend and the taxi driver drinking in the moment. She started smelling my face and hair and we looked down at our feet and saw that we had the exact same size feet – 2.5 – yes tiny!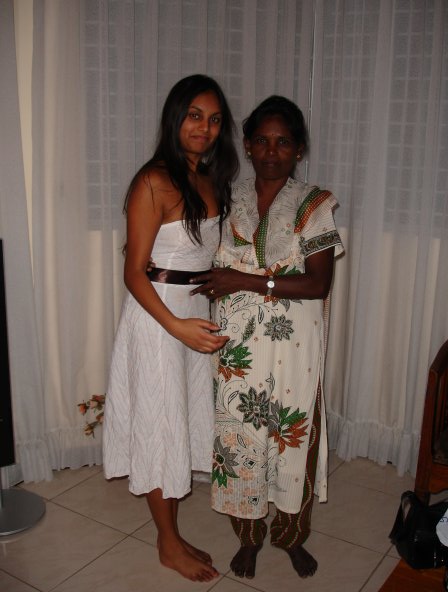 It was late and after her showing me all the photos that she'd kept of me, we went to the twin room to sleep. I sat on my bed and she sat on the bed opposite me and gestured for me to sit on her lap. In my 20's, I felt slightly uncomfortable doing that, not just because of my age but she was so tiny that I thought I would break her! She then said "you sleep with Amma (mum)" and got under her sheets. I didn't quite know what to do but got under the sheets with her. She pulled my head to her breasts to lay upon as if I was a child. I felt her wanting to love me. I wasn't used to it so didn't know really how to accept it but was grateful of her being so embracing of me. It was very sweet and beautiful in fact.
The next day, I met my youngest brother, Arun. I couldn't speak to him as he didn't know any English so we just looked at each other. I couldn't believe I had a little brother. We set out on the journey to the hill country to see my grandmother and my other little brother, Ashok. By the time we arrived, my hands were palmy, despite the air conditioning. We were sitting in the car, Arun, my mother in the middle and me. My mother, got our hands and put them together and placed them on her knee. We had a seven-hour journey of not letting go of each other's hands. Just before we got to my grandmother's house, Ashok, was waiting at another family member's home. He was very shy and hid behind my mother but couldn't stop smiling at me. I was so delighted to have now seen my little brothers face-to-face. What an incredible feeling.
We pulled up and there she was waiting, still with that strong, wise expression on her face. I had been suffering with various aliments and felt pretty weak and it was as if she knew – she held out her strong hand and walked barefoot, holding me upright and strong beside her. Her voice had this vibration that already wanted to make me cry, it felt like home. There, I was embraced by my little aunty who cried out loud. There were so many people crammed into this small shack, with a leaking tin roof and rice bags in the spaces where windows should be. I sat down and they were all standing around me staring and suddenly, I couldn't hold back my tears anymore and started to weep. Arun then quickly comforted me and then I was very quickly taken away by my grandmother. She held my hand and sat me on her bed and started rubbing the bottom of my legs – which I imagine was to "ground" me. Her strong hands. Those hands, that had been picking tea leaves decade after decade.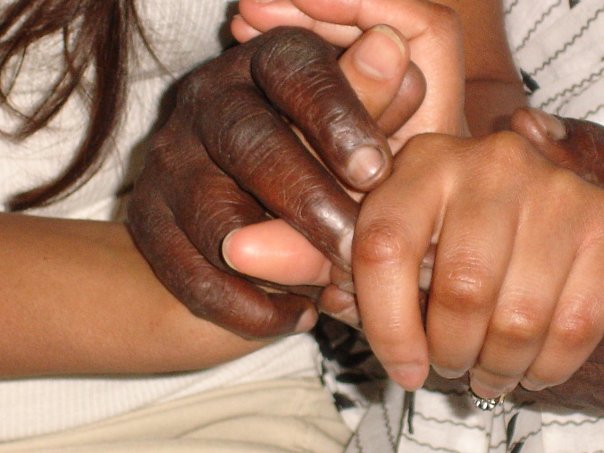 They all then gathered around and started singing. It took my breath away. We couldn't speak you see. We didn't know one another's language so the only thing we could do was sing. Each person did their own song and then it came to my mother, she stood there in her midnight blue tunic and trousers and started singing in English… "Twinkle, Twinkle little star, how I wonder what you are. Up above the world so high. Like a diamond in the sky". In that moment, she looked so vulnerable and I couldn't help but embrace her.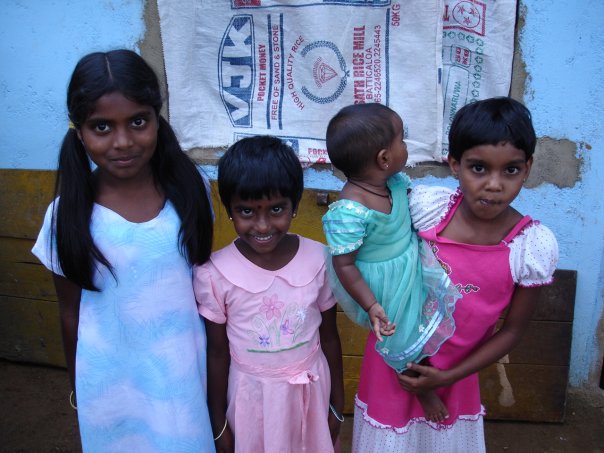 Ashok was so eager for me to meet all his friends. He did a call across the tea plantation and literally children suddenly appeared and were queuing up to see me. Boys and girls were separated. They all shook my hand and welcomed me.
When the children left, my mother got Ashok to wash my feet with water from a clay pot and then they started to perform a Hindu ritual. My grandmother lit a huge flame from a metal dish and put it around my head and my entire body and then dipped her finger in the white ash and dabbed it on my third eye. Next was my brothers turn and my grandmother made them both kiss my feet.
That night, I felt closer to god than I had ever before. I somehow felt connected to something in-between the nothingness.
What was to follow, was a rude awakening. Suicide. Not only did I learn of how my father committed suicide, by drinking pesticides but I also learnt that this was the "norm" for young people.
I then found myself, back at the airport. This time, I was too emotional to walk. I didn't want to leave them. Ashok picked me up like a baby and carried me through the entire airport. We then stood either side of a glass panel and I blew kisses at the boys and they grabbed the kisses in the air and firmly put them to their hearts.
Suicide is prevalent among children. They are so determined to pull their parents and siblings out of poverty and they see the only way to do this, is through education. Yet, the education system lets them down. The head teachers are qualified but the majority of teachers are not qualified. Parts of the curriculum are also held back as an incentive to make parents pay for it which they just can't afford to do. When they inevitably fail their exams, they turn to self-harm and suicide.
There is 1 clinical psychologist to 350,000 tea estate youth. When you combine a lack of education with a lack of mental health provision, this is the result.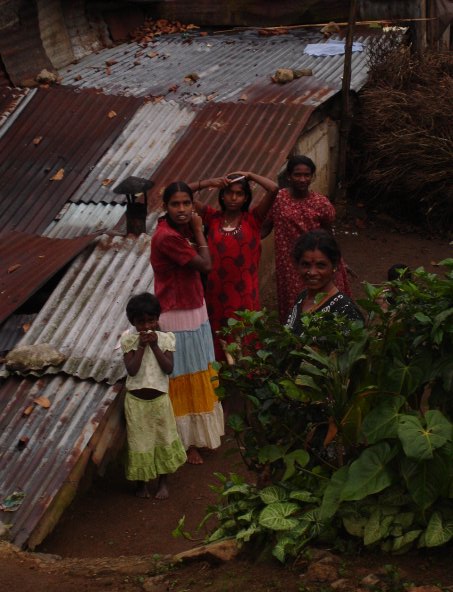 UK registered charity Tea Leaf Trust, is trying to change this, through their educational programme which not only provides free English Diploma programmes to youth of the poorest tea estate communities – but they also focus on mental health awareness and provide counselling. During the pandemic, one of their main funders, has had no other option but to stop their support. Not only am I passionate about supporting the mental well-being of the children on the tea plantations but I have a very personal link with this centre, as they very kindly allowed both Ashok and Arun to enrol on their programme.
If you are able to help us towards our goal of £18K, we would be extremely grateful. Please click here YOUR DONATIONS WILL BE DOUBLED UNTIL SUNDAY 6TH JUNE AT MIDNIGHT (UK TIME).
Share this article
https://niroshini-acupuncture.com/blog/#entry/my-story