The Culture of Skincare
What kind of woman likes to look after her skin? How old is she? What colour is her skin? Does she use products to repair the damage done or also take steps to protect her skin from the elements?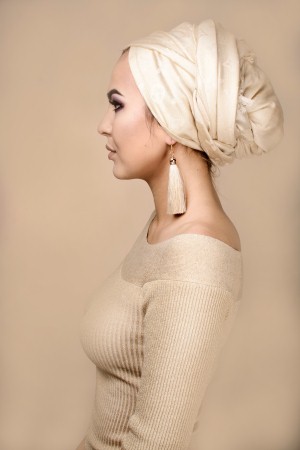 The answer: "she" is everyone and anyone, "she" is someone who chooses to look after her skin in any way she feels best for her and "she" could also be "he" as of course, many men also love to look after their skin.
Many of us know that looking after your skin on a daily, weekly and monthly basis is worthwhile but what about preventative measures? An obvious element to protect yourself from is the sun. In this respect, all of us likely use a 30+ SPF on our faces as many foundations, BB creams and tinted moisturisers contain it. It's worth noting that you should use SPF even when the sun isn't shining, the rays that cause damage such as fine lines, wrinkles and sunspots still get through the clouds.
Another method to protect the skin is to cover up. Many women who love their skin also wear a veil; be this for cultural, religious or indeed for protection from the elements. In particularly arid regions, the veil is used by women to protect themselves from sandstorms, the wind and the fierce heat of the sun. Also, in many cultures, the veil is used to protect women's modesty and is a major part of the heritage of the country and peoples.
At Niroshini, we believe that women choose to take care of their appearance and look after themselves simply because it makes them feel good and not necessarily because anyone else can see the effects; this is never truer than for our clients who choose to cover their faces with a veil. We recently posted a blog about Ramadan and used an incredibly beautiful image of a veiled woman; with bright and fresh skin, it is evident to see that she must look after it. The veil itself is a beautiful item regardless for what reason it is worn and the options are endless for women to choose from; plain, patterned, beaded, brightly coloured or even jewelled. Dolce & Gabbana has proven with their very popular new line "Abaya" which includes items such as long dresses and veils, that women who choose to cover their skin are just as included in the world of luxury fashion and beauty as those who wish to wear less.
As a global brand, with a multicultural market, we celebrate all women, all ethnicities and all cultures and include anyone who wishes to look after their skin, their well-being or even just occasionally read our varied blogs! Do you have any beautiful images of women revelling in their own skin and femininity while showing their heritage that you would like to share? If you do, we would just love to see them; it will help us plan another blog to celebrate another culture!
To get in touch, visit: https://niroshini-acupuncture.com/contact-us
Thank you to Azamat Zhanisov for the use of this photograph.