History of Eyebrows
Have you ever finished your makeup, looked in the mirror and thought "I just don't look right today". As beautiful as you all are, you may have been right and the reason, may have been your eyebrows playing up.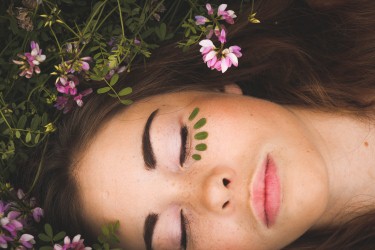 Our eyebrows are a functional feature and like most things in our bodies (bar the appendix, does anyone know what the appendix even does?!) they serve a purpose. Hair on the whole, is designed to keep dirt and sweat out of places it shouldn't be, in this case – the eyes.
Since records began, eyebrows have been a prominent part of many historical cultures. For example, the earliest recording of eyebrow interest was the Ancient Egyptians who believed makeup had supernatural powers (this I still believe could be true!) and were famous for using a carbon and black oxide substance as the very first liquid eyeliner. A key feature of the Ancient Egyptian look was heavily lined eyes; this meant their eyebrows needed to be as prominent to balance the look.
More recently, eyebrows have been constantly changing and evolving in line with fashion. Each decade of the last one hundred years, has seen vastly different designs from pencil thin, to completely unedited – the brow is the most obvious fashion item everyone owns.
The 1920's star, Clara Bow, famously shaved off her eyebrows and redrew them in the style of the time – a pencil thin line, slightly longer than the natural brow. The 1940's were a time of natural brows, Vaseline was used to sculpt brows into a high arc and keep them neat, without any removal or colour added.
Moving to the 1950's, the end of the war and rationing meant that women had disposable income to spend on makeup. Audrey Hepburn, Marilyn Monroe and Elizabeth Taylor all wore their brows thick, defined and highly arched – this look was achieved by filling in the gaps with colour and plucking brows for neatness, much like we do today.
Hippies and disco divided the look in the 1970's and this divide carried on for the next few decades. In the disco scene, Diana Ross was completely removing her brows, making space for more disco makeup and creating a whole fashion followed by millions over the next 20 years.
On the flip side, hippies went for the natural look; minimal effort and minimal changes meant brows were thick, thin, barely there or very dark. This look continued through the 80's and 90's with Madonna carrying on the natural undefined style. The 90's grunge scene subsequently adopted this easy-going style. Disco brows were also seen throughout the 80's and 90's; pencil thin, an obviously drawn on line and usually very flamboyant. This is the brow that many of us will remember and possibly, if you are emulating the latest look of very thick brows, will still be feeling the effects of.
One person can define the current fashion for brows: Cara Delevigne. The top super model of the moment that has big, bushy brows. Cara's brows have been copied the world over. The launch of her hugely successful career sparked a return to the Audrey Hepburn era of eyebrows. Big and bold yet defined and tidy.
Now, the tattooed eyebrow is booming – however, like fashion, the look of the eyebrow will forever evolve so permanent for some, may be regretted in years to come…
Brows are most certainly a fashion statement and regardless of if you follow the trends, they are right in the middle of your face so you need to look after them – just like skin and nails.
Some simple tips to follow include:
• Don't over pluck! Over-plucking for consistent periods of time can lead to brow regrowth being sparse and uneven.
• If you are trying to grow out your brows, try rubbing a drop of olive oil into the sparse areas each day to stimulate hair growth
• If you aren't confident, it's always better to have brows professionally shaped. DIY is absolutely fine for tidying up but if you need shaping, it's much trickier and easy to leave your brows uneven.
Niroshini offer complimentary eyebrow shaping and tinting, if you have 10 sessions of Niroshini Cosmetic Acupuncture or as a stand-alone treatment. Using only natural dyes and ancient sugaring techniques, Niroshini can sculpt the brow you want. If you have been thinking of having your brows shaped, why not give it a go?
Email: info@niroshini.com