Get transported to faraway lands at Niroshini Retreats
Belle Grove Barns AKA "The Dragon House" is where our spring retreat is being held. It has featured on HGTV's "Extraordinary Homes", Channel 4's "George Clarke's Amazing Spaces" and most recently, Quest's "Salvage Hunters".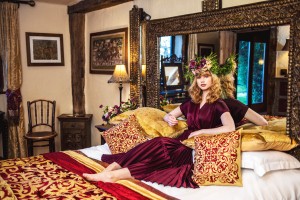 The all-women retreats focus on enabling personal empowerment and balanced well-being. With tailor-made treatments and time for each small group of women to bond, a Niroshini Transformative Retreat, offers the chance to develop that deep core within each of us; that intuitive and "knowing" place – a safe and nurturing environment to encourage the sharing of knowledge and personal development.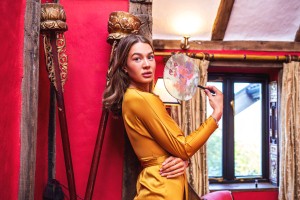 About Belle Grove
As you approach your luxury getaway, the first thing you'll see through the trees is a dragon caressing the top of a building which sits snugly beside the 5 star cottages. The papaya coloured house and fairytale tower of this award-winning private home, is where the treatments, group healing sessions and live music will be carried out for five guests.
The exquisite cottages where you'll stay (also award-winning) are themselves a veritable Aladdin's Cave, furnished with fascinating pieces that Jo and Nick, the owners of Belle Grove, have personally collected overseas, especially from Africa and Asia. Each space has a distinct quality, jewel-like interiors filled with an abundance of riches. It really does feel as if you've found the key to a treasure chest.
You'll also be able to relax and enjoy the beautiful natural grounds of Belle Grove. In the warmer months, the lush tree-lined surroundings are dotted with vibrant flowers, the two ponds lit with flashes of iridescent blues and greens from dancing dragonflies. Visitors seeking peace and tranquillity are frequent returnees whatever the season. There is a network of country footpaths in the area, should you wish to explore further afield. 
There are various special highlights taking place at this particular retreat which are listed below: International singer, Unnati Dasgupta, will treat guests to her beautiful, soulful and spiritual Indian songs and will also facilitate a group "music mantra chanting" session.
Unnati will be joining guests, for the evening meal, prior to her performance which will provide an opportunity, to ask questions about her fascinating musical career, most recent album and more… (Our other international musician that performs at our seasonal retreats is Alex Wilson).
You will be nourished with exceptional food from our signature spring menu, specially created by In-house Chef, Laura Bridge – private chef to royal households and the stars – which focuses on Ayurvedic principles. (Laura is known as one of Russia's top celebrity chefs).
Treatments reference ancient traditional spiritual healing practices from Sri Lanka, some Indian philosophies with a little Peruvian and Ecuadorian magic included too! Holistic treatments are offered so you'll discover glorious ways to indulge yourself on all levels, with your body, mind and spirit reaping the benefits.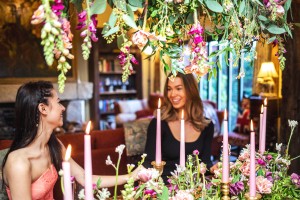 Other highlights include:
• One Niroshini Cosmetic Acupuncture Ritual (non-surgical facelift)
• One crystal healing session combined with a crystal sound bath
• Two energy exercise classes
• Meridian Reset
• Three group healing sessions (which include Reiki drumming, Group Regression and facial acupuncture – purely for health benefits)
• Art workshop inspired by nature (animal communication workshops are offered at other retreats)
• Tree ceremony (uniting and aligning with Mother Earth)
• Luxury gift bag
(Our trees are from the Woodland Trust and are planted during the tree ceremony on the last day of the retreat. Each guest will also be gifted a tree to take home alongside their luxury gift bag).
To secure your place on our spring retreat, 4-7 May 2020, please book by 31st March 2020.
Email: info@niroshini.com
Niroshini News
Our retreat has been aired on the following Radio Stations – you can listen on the links below:
Niroshini Offers
During the month of March 2020, we are giving a 10% discount towards a Reiki treatment.
You can follow us on Instagram