Flowering Black Velvet
Finest Hand Rolled Orange Pekoe with Tea Flowers
The perfect luxury gift item for discerning tea lovers...
Our signature Sri Lankan hand rolled black tea, has a texture as smooth as velvet and is infused with white tea flowers. Once warm water is added to the loose tea leaves, the flowers will open, producing fragrant, delicate overtones of honey. It is "Orange Pekoe" meaning that it's the finest tea of the highest grade.
This beautiful, flower infused tea, can be reused at least three times, meaning that you can get approx 50 cups of tea from your 33g pouch. Ensure you empty the teapot between infusions. The remaining leaves will be relatively dry and ready to use again. The water will penetrate deeper into the leaves for the next infusion, revealing new depths to the flavour.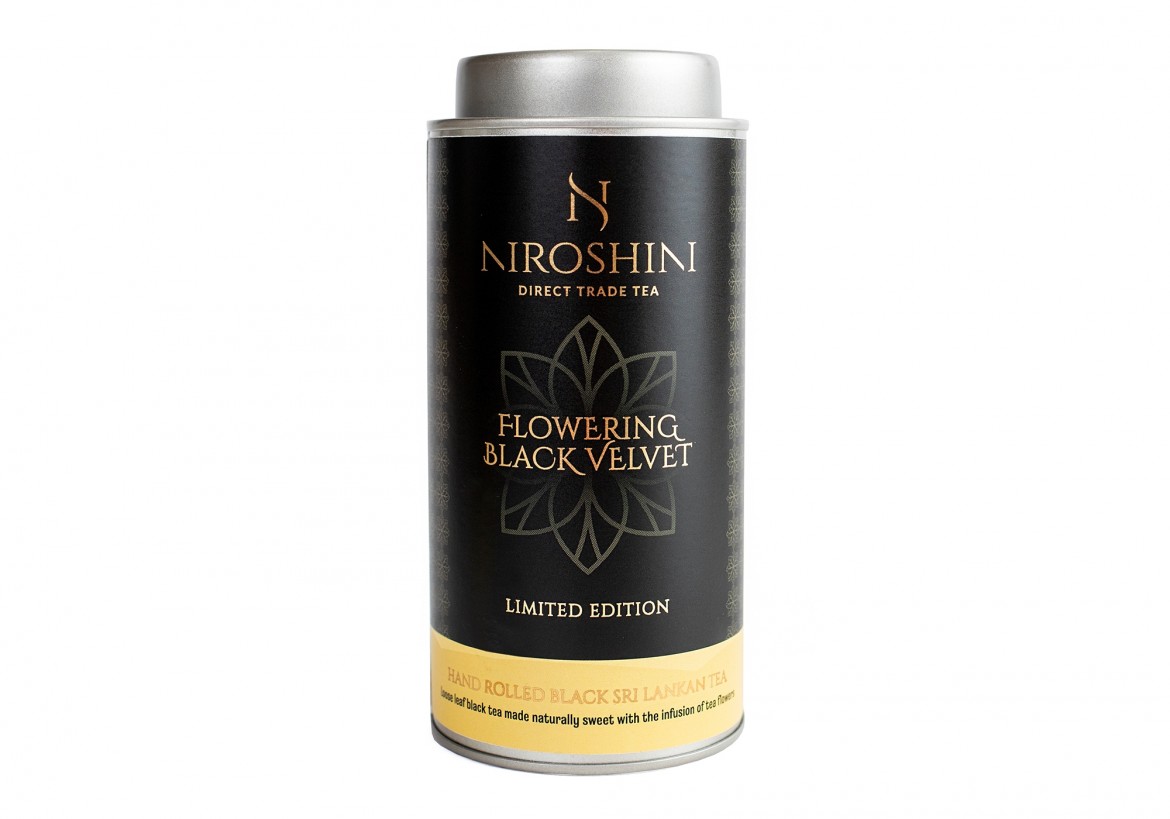 ---
Direct Trade ✓ Handcrafted ✓ No plastic ✓ Zero carbon ✓
The natural fertilizer, comes from the farm's herd of rescued cows. No chemical fertilizers are used.
---
By trading directly with Niroshini Direct Trade Tea, the farmers get a higher percentage of profits resulting in tea workers receiving a fair, living wage.
Melissa's personal connection with the farm is that her eldest of two younger brothers, works there and loves being a part of a company with an ethical heart.
---
The Farm...
Flowering Black Velvet, is from a small farm, perched on a cliff above the great Ravana Ella Waterfall, nestled in the hidden valley of Ambadandegama. It can only be reached by narrow winding roads. Yet, historically the valley has borne witness to a rich history.
In the great Hindu epic, The Ramayana, written more than 4,000 years ago, Ravana, the king of Lanka, abducts Sita, the beautiful wife of Lord Rama. During Sita's captivity in Sri Lanka, Ravana is said to have hidden her in a cave beneath the Ravana Ella Waterfall. After Rama, with the help of Hanuman and his monkey army, crossed to Sri Lanka and defeated Ravana in a great battle in the mountains of Uva, Sita bathed in the waterfall before being reunited with Rama. Today, thousands of pilgrims visit the base of the famous waterfall at the point where it passes under the Ella-Wellawaya Road.
The farm also straddles one of the ancient trade routes that connects Sri Lanka's southern plains with the central highlands. The ancient path that winds along the farm's boundary, was once used by teams of elephants transporting salt from the salt flats of Kirinda to the Kingdom of Kandy.
---
Order information

You can place an order for our tea, by emailing: info@niroshini.com
Price: £12.50. per tin.
For wholesale, a minimum order of 1 batch (6 tins) is required.
Packaging and standard Royal Mail postage fees will apply
---
Butterfly Blue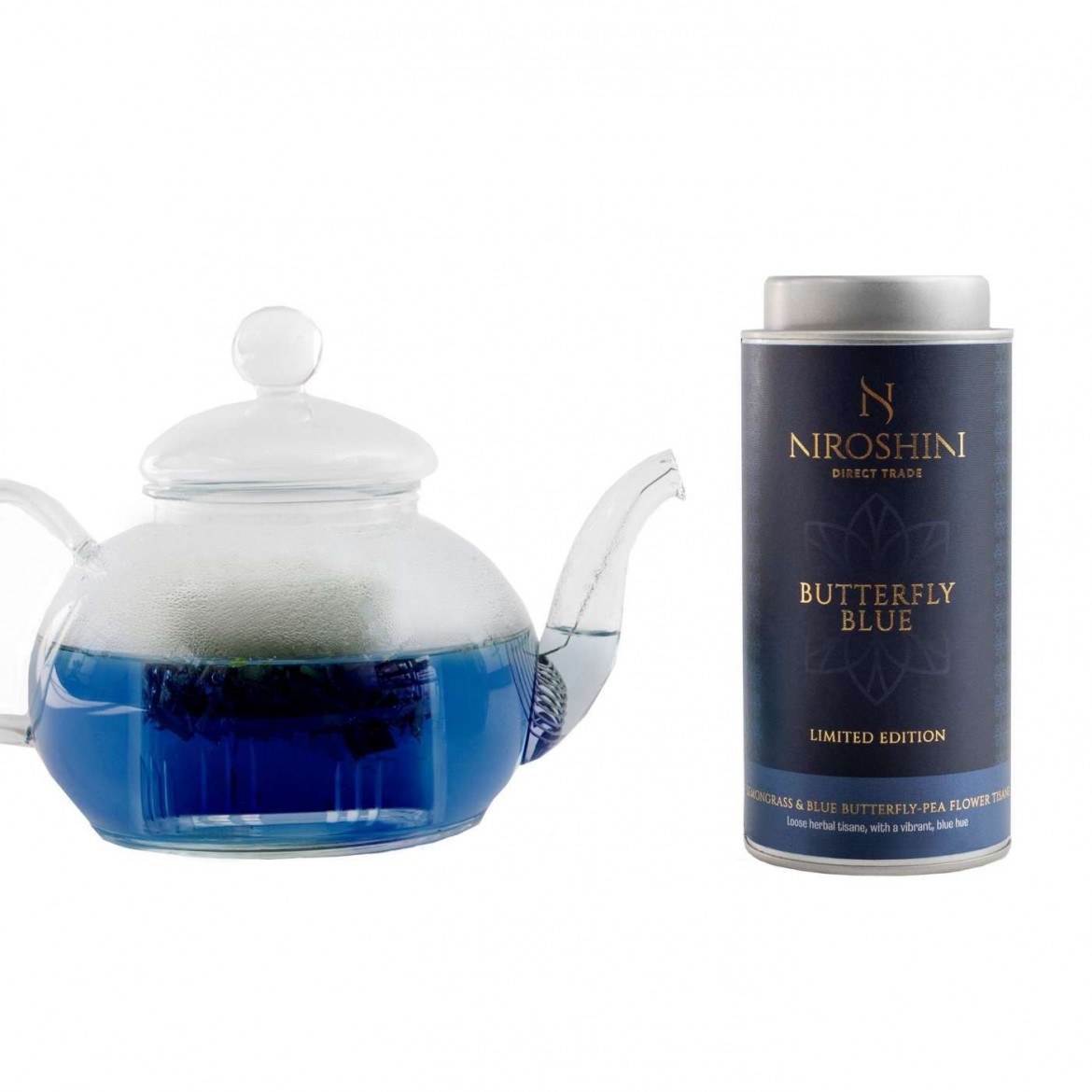 This is a very special tisane, not only because of its vibrant blue hue but more importantly because it's part of a story that symbolises hope... Melissa's little brother Ashok, always wanted to be an inventor. On Sri Lanka's tea plantations, the education is poor, due to the placement of unqualified teachers. This led to Ashok failing his exams and he felt his chances of achieving his dream, to become an inventor, impossible.
After however going onto an English Diploma programme, he secured himself a job on the Direct Trade Tea farm as Assistant to the Production Manager and he also does the tea tours. Mr Simon, Ashok's Manager, heard of his dream to become an inventor so set him a challenge to design and make a lemongrass chopper. It is now being used on the farm.
Over 200 children and young people from tea plantations, heard of Ashok's invention story and it has now become a symbol of hope, that they too, can follow their dreams and passions in life.
Ashok was invited to speak on BBC Radio Suffolk. You can listen to the 15 minute interview on the YouTube clip below.
The tisane is lemongrass infused with blue butterfly-pea flowers (finely chopped through Ashok's machine!). It is refreshing and both ingredients are in fact used, in Ayurveda and are said to both hold healing properties!
A percentage of the sale profits, will go back to educational programmes in Sri Lanka, to help encourage youth to fulfil their potential and recognise their unique gifts.
Violet Flame
Our Butterfly Blue, also doubles up as a refreshing mocktail. When you add a dash of lime, it turns to a beautiful violet hue. A great party pleaser! If you want to get colourful, you can also freeze Butterfly Blue and add the ice cubes to any beverage.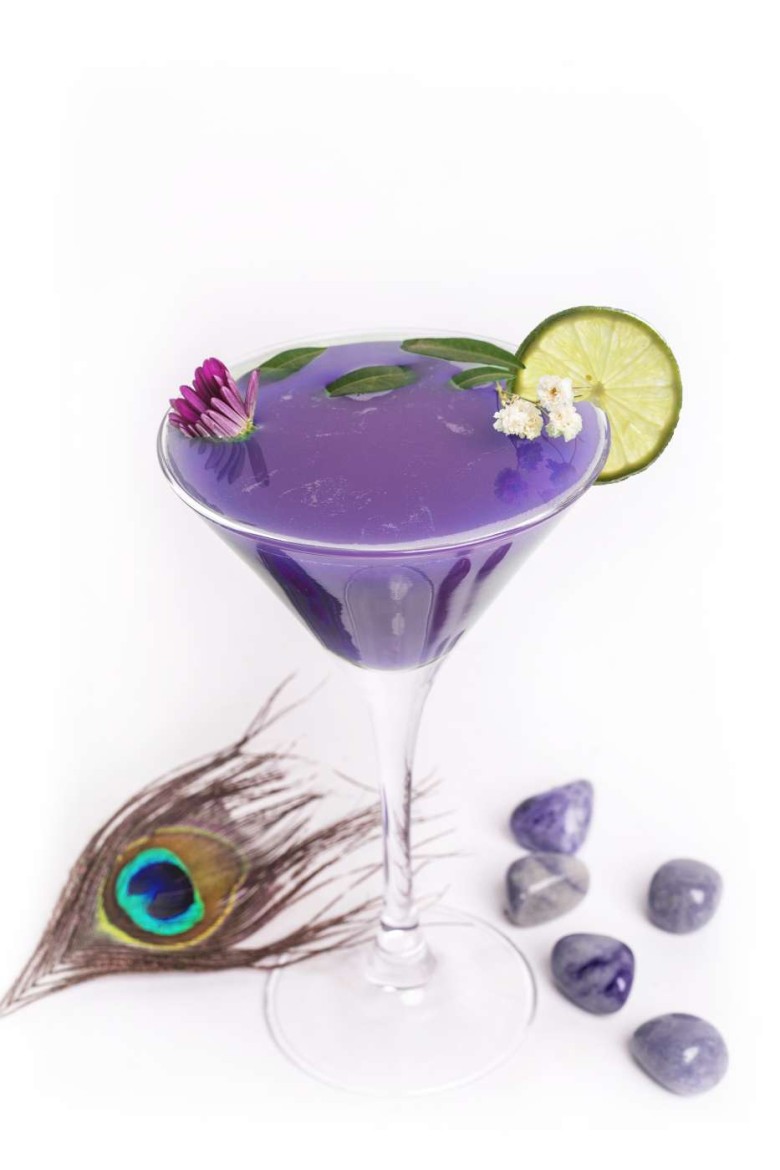 ---
Order information

You can place an order for our tisane, by emailing: info@niroshini.com
Price: £11.00. per tin.
For wholesale, a minimum order of 1 batch (6 tins) is required.
Packaging and standard Royal Mail postage fees will apply