At Niroshini Cosmetic Acupuncture, Melissa Day provides the ultimate "non-surgical" facelift & all-women "Luxury Transformative Retreats" in the heart of the Suffolk countryside.
The Ritual...
Combining facial and cosmetic acupuncture techniques and specialist massage, the Niroshini Cosmetic Acupuncture Ritual is a completely natural alternative to Botox and cosmetic surgery.
For answers to frequently asked questions, please click here
[If you are a customer of Simply Health, reimbursement for acupuncture, according to your individual plan, may be applicable].
For more information, call customer service on: 01473 430026 or email: info@niroshini.com
Retreat to the Suffolk Countryside...
*Upcoming retreat ~ 28th - 31st October 2019*
Alex Wilson, pianist and composer will be performing
At Niroshini Transformative Retreats, Melissa invites you to experience 3 spiritual, grounding nights, in luxurious surroundings, in the heart of Suffolk.
The all-women retreats focus on enabling personal empowerment and balanced well-being. With tailor-made treatments and time for each group of 5-7 women to bond, the retreat offers a chance to develop that deep core within each of us; that intuitive and "knowing" place. ~ A safe and nurturing environment to encourage the sharing of knowledge and personal development.
Niroshini treatments reference ancient traditional spiritual healing practices from Sri Lanka, some Indian philosophies with a little Peruvian and Ecuadorian magic included too!
Holistic treatments are offered so you'll discover glorious ways to indulge yourself on all levels, with your body, mind and spirit reaping the benefits.
Our retreat venues are at award-winning Belle Grove and Butley Priory. For more information, please click here
Contact customer service on: 01473 430026 or email: info@niroshini.com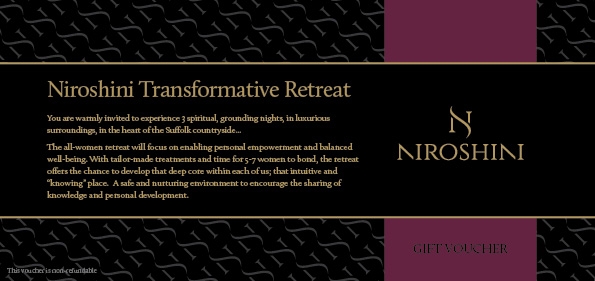 To purchase a voucher for that someone special, please email: info@niroshini.com